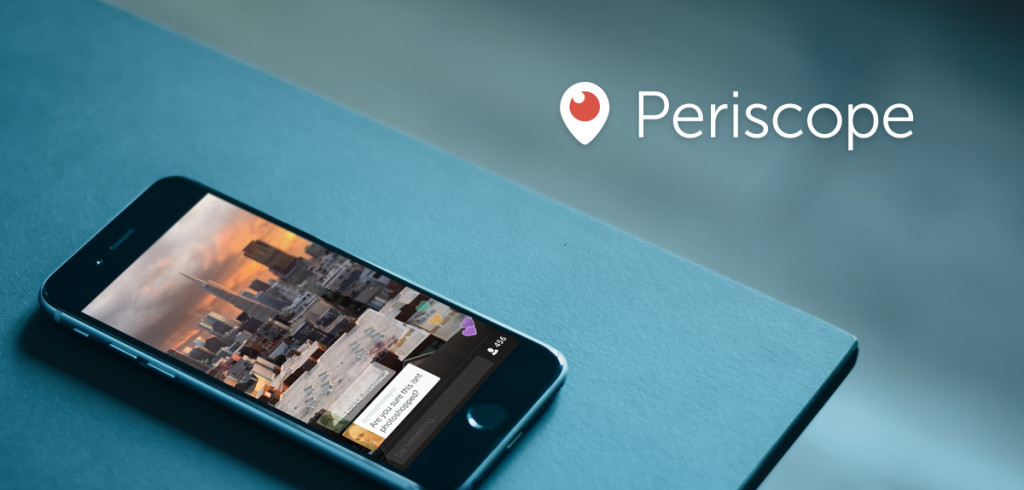 After only a year of launching, Periscope users have created over 200 million broadcasts.
And between the iOS and Android app, users are watching a combined total of 110 years of video —daily.
For those not familiar, Periscope is a live video streaming app that lets you watch live videos from users all over the world.
It's become an amazing platform for artists to promote their work by live-streaming their creative process.
Marketing and creation: two birds with one stone!
It's also a great resource for ceramic artists and hobbyists who want to learn from, and interact with, other artists. If the broadcaster enables it (and most do), you can chat with others who are watching the video and with the host themselves.
So, I am a total workshop addict. I love to see the process of other artists. If you're the same way, Periscope is going to be your new jam.
Periscope is like a virtual ceramic workshop that you can attend from home.
While still in your PJs.
It's awesome.
Periscope is free and available for iPhone or Andriod. You can watch Periscope in your browser, but to follow broadcasters, you need to download the app and log in with either a Twitter account or phone number.
If you're a ceramic artist and this sounds like an intriguing tool for you… Check out Academy of Handmade's awesome article on 25 things makers can do on Periscope.
I'd recommend dipping your toes into the water and checking out what other potters and artists are doing with this platform.
How to find pottery related live-streams
To find current or recently broadcasting artists, navigate to Broadcasts and search for any pottery related terms like glazing, trimming and throwing.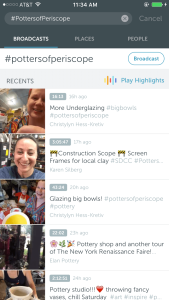 Or can you search using these popular hashtags:
#PottersofPeriscope
#ClayScopes
#HowIcreate
Searching for broadcasts only shows a few of the most recent ones. Your best bet for a steady stream of pottery demonstrations is to follow broadcasters.
42 Potters and Sculptors to Follow on Periscope
You may find that some of the people on this list don't save their past periscopes. But you can follow them to receive notices of new scopes. Also, some users offer exclusive, private scopes for followers.
If you do miss a live broadcast, most videos stay available as replays for 24 hours.

Artist, USAF Veteran, YouTuber, Illustrator ,#pottersofperiscope www.jessicaputnamphillips.com theporcelainsoldier.etsy.com @jessputnamphillips IG
NC potter #clayscope SnapChat klineola Find out more about my work here:http://www.klinepottery.com/new-products/ INSTAGRAM.com/klineola
I am a ceramic artist based in South Africa.#pottersofperiscope #clayscope@ashleighchristelisFB Ashleigh Christelis www.ashleighchristelisceramics.weebly.com
🔥🌎Earth and Fire Alchemy🌏🔥 Ceramics Monthly Emerging Artist🐛 🔥🔥⚱👁⚱🔥🔥 #clayscopehttp://www.neilcelaniceramics.com
Hi! I am a functional potter sharing my process from creating to selling at fairs and the nitty gritty in the middle!🌟💕🌟 Follow me on Insta @elanpottery
I'm a potter and owner of Skoby Pottery. I live with my family on the countryside in Sweden. www.skobykrukmakeri.se #pottersofperiscope #clayscope
#Ceramics #ClayScope #Fashion #MadeInNativeAmerica® VirgilOrtiz.com ⚡️All social networks⚡️ @virgilortiz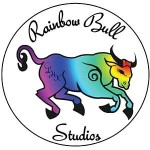 I am a potter living in Marana AZ. I love clay. Clay is life! You can find my work @rainbowbullstudios/facebook.com #pottersofperiscope #pottery #porcelain
Australian Potter 🐨Melbourne Instagram – @adrianachristianson #claysista 🙆🏻 #australianceramics #pottersofperiscope #clayscope www.adrianachristianson.com.au
Bluematchbox
Potters Supplies and home of the Tilehurst pottery
Justin Reese, JPR studio. Visit www.etsy.com/shop/jprstudio to purchase. social: @JPR_Studio – Website: www.jprstudio.com #pottersofperiscope #clayscope
Avid potter and podcast host of Tales of a Red Clay Rambler. #pottersofperiscope #clayscope
Excited about Pottery, Gardening, and generally everything about LIFE 🍶Returned Peace Corps Volunteer 🌎 Northern California ☀️🌷🌻Instagram karen_s_ceramics
 
Tim See
Ceramic artist and educator. Sharing pottery videos here from throwing to wood firing. #pottersofperiscopehttps://m.facebook.com/TimSeeClay/

I'm a Ghetto punk trying to learn to be useful
I am an aspiring potter and high-school chemistry teacher, trying to bring a little handmade awesomeness into everyday life. #clayscope mkt.com/alpottery

Pauline Kambouris
The novice but enthusiastic potter, avid traveler and forever foodie. #pottersofperiscope IG: luckysapphire

Singing / Uke / Photos / Poetry / Pottery/ Cargo Bikes / Sarcasm / Love
I am a busy mum of 2 boys, run a catering company called Food from us and am obsessed with clay #pottersofperiscope
Sculpting, drawing mostly working with porcelain @bonepearlqueen Insta FB Etsyhttp://citadaidone.wix.com/artistprofile #clayscope #pop Sydney Australia

A father, a yogi, and a potter. Hand made ceramics. Teaching from the heart. www.gibson-pottery.com
Claytastic ceramic sculptures and creations from the Other Side. Ceramicist & seller of pottery supplies. IG: claytasticvictoria #pottersofperiscope (Sweden)
Potter, maker and paper conservator Oslo, Norway. #pottersofperiscope d.gillberg on Instagram
teresamcarson.simplesite.com. #PottersOfPeriscope.

Ceramic artist-Denmark, working in clay. Inspired by industrial harbors. www.hellebovbjerg.dk. #pottersofpersicope
#pottersofperiscope. Playful Practical Pottery. Family – Fun – Friends
Indiana ceramic artist hoping to expand that horizon! Check out more at erin-case.com and also follow me on Instagram @ceramic_case
Studio Potter in NC @williambakerpottery on Instagram Shop Online:https://squareup.com/store/companion-gallery/#pottersofperiscope #clayscope
Mocha Diffusion and soda fired pottery. www.kowalskipottery.com insta @kowalskipottery #pottersofperiscope #clayscope www.etsy.com/shop/KowalskiPottery
frankm
Maryville,TN • Studio Potter • Educator • Husband/Dad • Obsessives over Graduates, Undergraduates, Firing Ceramic Materials & Makin
Adam Field
Handmade pottery in Helena, MT #ClayScope #PottersOfPeriscope www.AdamFieldPottery.com Instagram: @adamfieldpottery
Didem
| potter | foodie | second year MFA student From Cincinnati, OH | staff member for eternity at Queen City Clay. #PottersofPeriscope www.didemmert.com
Alex & Lisa LaPella are #pottersofperiscope. Find us at www.lapellapottery.com On Instagram, find us @lisalapella and @alexlapella
www.corisandler.com #pottersofperiscope #clayscope online pottery classes. Instagram & Facebook: Cori Sandler Pottery
Potter. Ames, IA. Instagram @erincarpenterpottery erincarpenterpottery.com #pottersofperiscope #clayscope #creativescopes
Artist, love the Lord, wife, mother #pottersofperiscope #clayscope gretamichellej.com www.instagram.com/artbygretamichelle
A potter from Ontario, Living to learn everyday!#Pottersofperiscope www.bearpawart.com www.facebook.com/BearPawPottery/www.Instagram.com/kariBearPawArt/
😁🐨all round visual artist and slipetty clay fan 🤓🙄find me on facebook ang walford ceramics www.angelawalford.wix.com/ceramics
ceramic artist working with porcelain gibranstudio.com IG: gibran_porcelain #pottersofperiscope
21. |Artist|Orange County| California, USA| I want to make art for the rest of my life. Primarily working in Ceramics. Check out my insta! Michaelgarciaarts
Did we miss anyone?
Whew. Long list, I know.
But that'll give you a steady stream of awesome videos to watch. You can find us on Periscope here. Brandon Schwartz at Pottery Making Info has a great list of Potters of Periscope too.
Do you know of any potters who regularly post on periscope or have a great back-catalog of saved scopes? Who else should we be following on Periscope? If so, let us know in the comments.