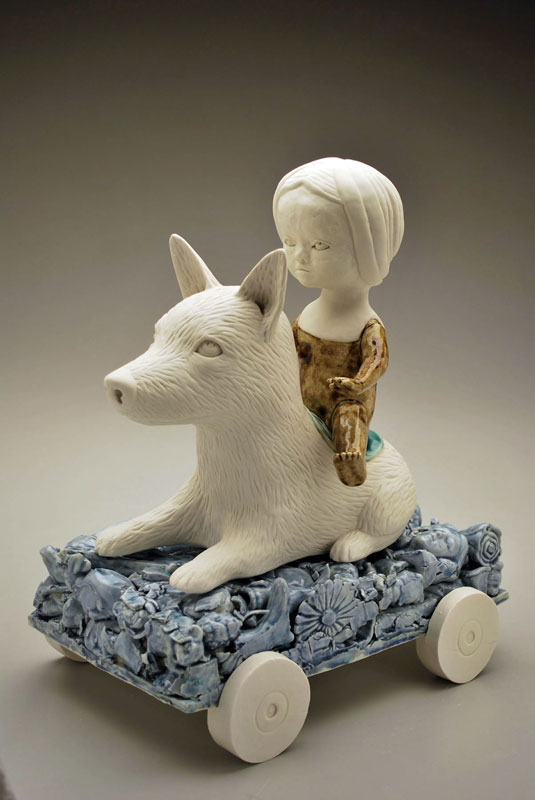 What are you working on right now?
I have been working on a series of installations about how we mediate experience through objects and our interpretation of landscape. One of the installations incorporates kitsch ceramic birds from the thrift store, hand built porcelain copies, cast and hand built objects, sound and porcelain wall shelves to create a space that references a specific memory of place. Another explores the idea of the transformation of the ordinary by repeating ordinary tools, objects and body parts. This piece plays with shadow, light and movement as the pieces themselves emerge from the wall. The last piece I have been working on is really in its third generation. It began as a collaborative attempt with another artist to create an environment that broke free from the heavy qualities of ceramic by using clay flowers, leaves and objects with wood. Now I am working on bringing some of the forms off the floor and onto the wall as well as incorporating drawings into the piece. These are rough wooden sections made with two by fours and dowel rods. All three of these will be at NCECA in Houston.
Who or what has had the most influence on your work?
I feel like influences are always evolving. I love the work of the self taught artist Henry Darger and his use of color, appropriation and collage to create narratives that are at once disturbing and seemingly innocent on the surface. I also really admire the work of Annabeth Rosen. I feel like her work has presence and goes beyond the idea of 'ceramic sculpture'.
I do take a lot of walks and find that my direct experience of the world around me as well as memories about place are something I think about in my work. I also use source materials like images of dolls from a specific time period or found objects from the thrift store. Even my animals or figures reference the inanimate object rather than the animal or thing itself. The animals are often copied from figurines and carved to mimic the stylized surface. When I make work I usually have a theme that I work within. This might be a phrase or idea, and I ask myself as I make something; does this fit in with this idea? For a while I make figures that explored interior space and metaphor.
Now I have been investigating the object and the idea of clay as a primary material. I think that teaching foundations and incorporating readings on contemporary art, theory and craft has influenced my work. My class often discusses the question of 'what is art?' and for me the answer has been that art enables us to look at the ordinary in a different way or allows us to reevaluate our everyday experience. Drawing even the most banal of subjects like a shoe, forces us to look at it in a new way and transforms it. When I was a student at the Kansas City Art Institute we went to a lecture by the British Artist Andrew Lord who makes very large, lumpy, hand formed pottery. At the time I thought it was horrible, but I've always thought about it and now I see it as the transformation of material and object through scale and the act of making. I even show his work in my image presentations. So I think influences change.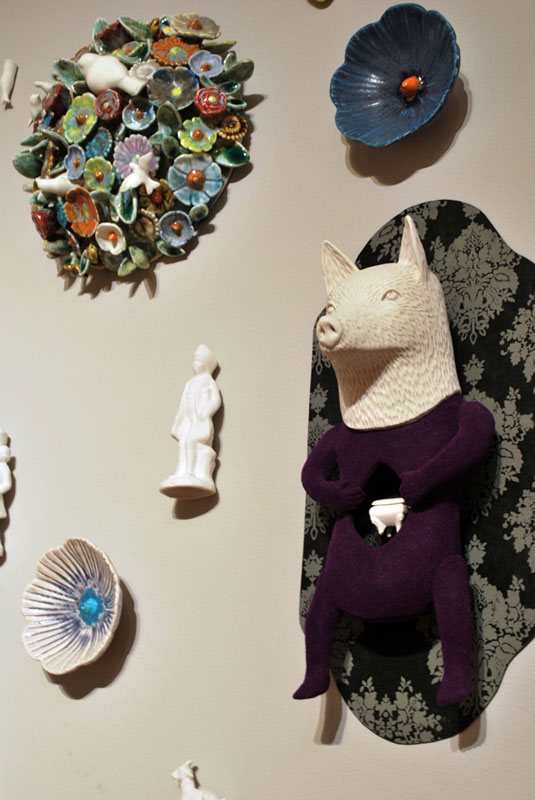 When you aren't in the studio, what are your other hobbies?
I like to walk the dog, run and spend time with my family. We now have a two year old.
What tools or techniques could you not live without? It depends of what I'm making. When making figures I need a fork, small carving tools, a metal rib and a stick with a pointed end. Now I have been solid building objects and hollowing them out, so I need the tools for scooping out the insides and of course a needle for putting them back together. With this series I am using my hands to sculpt them without tools. I also use plaster for many things, depending what I am doing. I generally am not too much of a tool person.
Where is your studio? What is the set up?
I have a studio at Lawrence University that I share with my husband, Craig Clifford and we have a smallish electric kiln that can go to cone 10. Since our daughter was born we work in the large basement of our rental and drive the work to the studio to fire. I also fire at the university since the kilns are bigger. I keep all of my glazes in my office at school and like to glaze in the classroom when no one is around. Lately I haven't been using much glaze and have been using cone 6 instead of cone 10 since my husband and I finished our collaborative residency at the Archie Bray Foundation last summer. A studio is really about making and while it would be great to have a beautiful space, I don't find it necessary. I move about every three years, so I make my workspace where I can.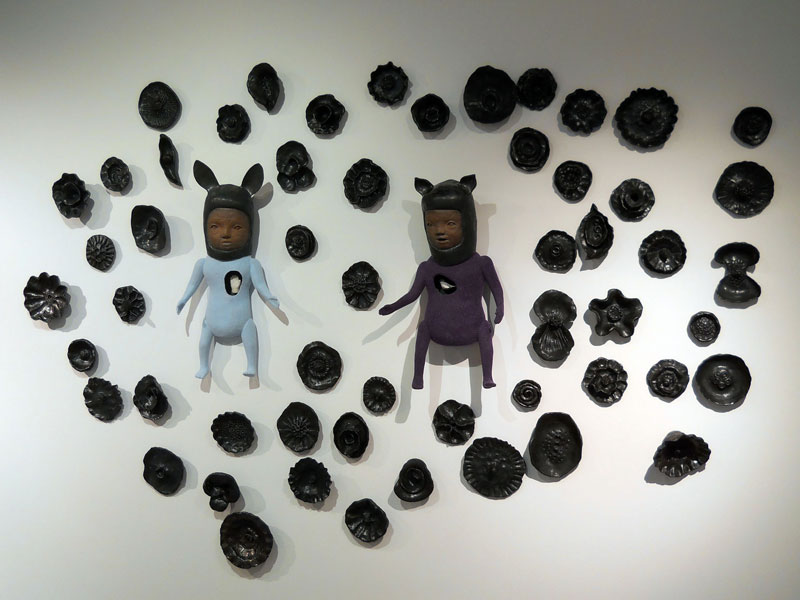 You have a plane ticket to anywhere in the world. Where do you go and why?
I would go to Spain to see the Alhambra and the work of architect Antoni Gaudi. I show so much work in images without having seen the real thing.
You have potter's block, what do you do or where do you go for inspiration?
I look up words sometimes, either on the computer of in the dictionary. Usually I just begin my making something I've made before and once I'm in the studio working more ideas and work emanates from what I'm working on.
Where else can we find you?
I am on www.artaxis.org, www.accessceramics.org, www.debbiekupinsky.com, www.artlifecrafts.blogspot.com, (my ceramic blog), www.dkupinsky.blogspot.com and my work will be in Houston at the 18 Hands Gallery, Spring Street Studios and Mother Dog Studios. I am also in a group exhibition at the Red Lodge Clay Center in Red Lodge Montana sometime in the late summer.