Hello claygeeks! We're kicking off our new featured artist series with potter and sculptor Lotus Bermudez. She's an important contributor to Houston's clay community, having co-chaired Empty Bowls Houston, been a resident artist at the Houston Center for Contemporary Craft, and a ceramics instructor at University of Houston. Lotus has taken time from preparing for her NCECA show to catch us up on her current work, inspirations, and more.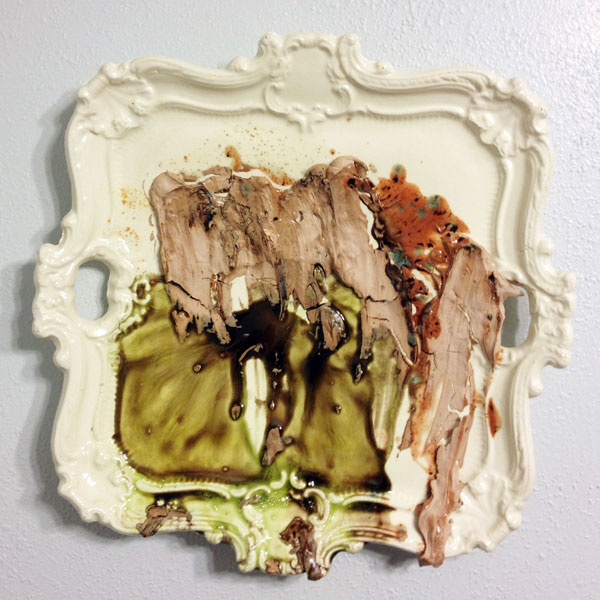 Clean Plate Series. Cast earthenware and 05 glazes.
What are you working on right now?
Geeeeeez, so much is happening in the studio right now it looks like it's been hit by a dust devil…
I'm packing up sculptural mini-installations and floor works for a two person show that I'm installing next week at The Art Studio in Beaumont, extruding and casting new wall pieces for my NCECA solo show at Winter St. Studios, glazing functional work for galleries, and trying to finish off a custom mug set order.
Who or what has had the most influence on your work?
I inherited my green thumb, creative streak, culinary skills and appreciation of art from my grandmother. Since her passing last summer I've tried hard to balance my life's ambitions, the nitty gritty of daily life, my obsessive artist drive and still enjoy of the contentment of being in the moment.
When you aren't in the studio, what are your other hobbies?
Clay is definitely passion "numero uno", but I love to grow my own fruits and vegetables, cook healthy foods for my family, and make soap from scratch.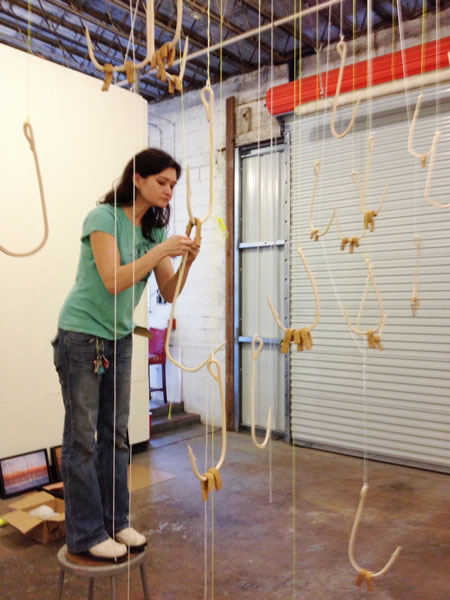 Biohazard Show Installation
What tools or techniques could you not live without?
What a cruel question!…… it's so hard to choose. I suppose I would say for tools I love my monofilament that replaces a metal wire tool & for techniques slab-building is essential for my daily existence.
Where is your studio? What is the set up?
I live in the Houston Heights in a 1930's house my husband and I (and lots of friends and family) refurbished. I have a home studio from a converted garage, but plans are already in motion for a large, detached backyard studio. I've got two kilns and a ware cart on one side; and on the other side is the wheel, wedging table, extruder, slab roller, and storage.
You have a plane ticket to anywhere in the world. Where do you go and why?
Do they have ceramic conferences in Fiji?
You have potter's block, what do you do or where do you go for inspiration?
I have endless inspiration (or maybe it's distraction) to draw upon from my two toddlers, husband, and my ceramics students at the University of Houston where I teach.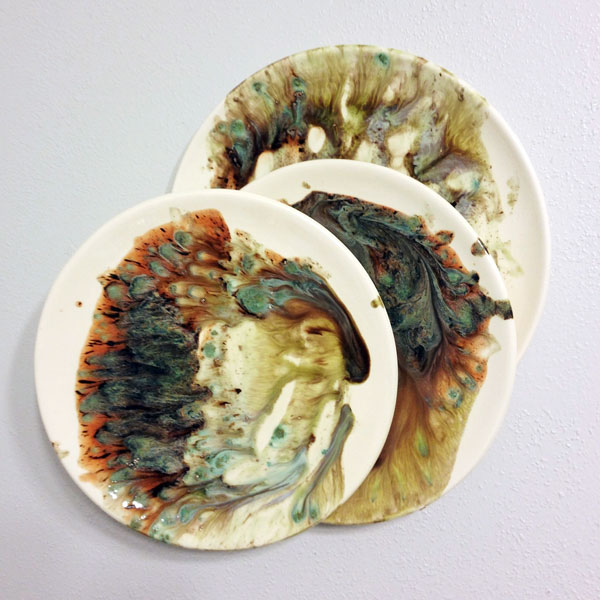 Clean Plate Series. Cast earthenware and 05 glazes.
Where can we find you?
Online
Website: www.claymatter.com
Etsy store: ClayMatterdotcom
Facebook: Lotus' Studio Page
Local Works
Asher Gallery (inside Houston Center for Contemporary Craft)
18 Hands Gallery
In Person
Teaching at University of Houston
Frequently take walks down to the Ceramic Store to buy supplies and be geeky