Good evening clay geeks!
Here's a quick report from beautiful Indianapolis, Indiana where I'm staying for AMACO brent training. I'm here with Gus Montonati from Hot Box Kiln Repair to get the low down on glazes, kiln, slabroller, and wheel repair.
Yesterday we started off with lessons in handbuilding and layering AMACO's Potter's Choice glazes taught by Tracy Gamble and Tim Martin.
If you haven't seen AMACO's PC glaze series for cone 5 oxidation, check out their page on layering for reduction-like effects in an electric kiln.
Yes, the glazes DO come out that great!
Today Joe Roach and Daryn shared with us their vast, amazing, mechanical knowledge about everything relating to wheel repair. They showed us some hands on repair techniques for Brent wheels (not that you'll ever need to repair one).
😉
We also had a great factory tour. You can check out photos of the factory, gallery, and more on our Flickr page.
Jeff Sandoe stopped by every once in a while to keep us in line… and take pictures.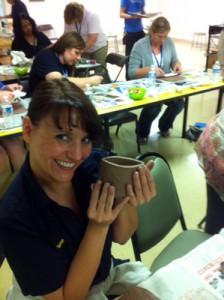 Tomorrow are workshops on kilns and slab rollers- looking forward to it! We're lucky to have Ceramic Store of Houston and AMACO brent provide us with this awesome experience. When we get back to H-town, we'll have some great tips for you on glazing, equipment repair and more. Stay tuned…