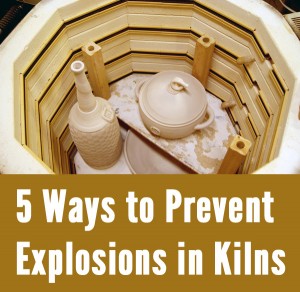 It happens to everyone. A piece of greenware blows up, sending ceramic shards flying everywhere. You're lucky if the explosion doesn't take down other pieces in the process. A waste of clay and hard work… and tons of fun to clean up.
But why do pieces explode in the kiln? The culprit is too much moisture in your greenware. At 212°F degrees water turns into steam. The pressure from the steam, and nowhere for it to escape, causes the piece to explode. If there's too much moisture in your greenware, especially moisture inside hollow air pockets within the clay, you run the risk of having your greenware explode.
But never fear, there's a few ways you can dramatically reduce the chances of pieces blowing up in the kiln.
5 Ways to Prevent Explosions in Your Kiln
1. Air dry pieces for as long as possible. I know, depending on where you live, this is easier said than done. If you're in an arid climate like Sante Fe, New Mexico, you probably don't have a big problem with drying your pieces. But if you're in a humid climate like Houston, Texas, it takes a while for greenware to dry out.
So how can you know if your piece still has too much moisture inside? Here's two quick tests:
Put the greenware up to your cheek. Is it colder than room temperature? It still has too much moisture in it. Let it dry for longer.
Place the greenware on a sheet of paper. Does the paper wrinkle? If so, there is still moisture trying to escape the piece. Keep on letting it dry.
2. Create a hole for steam to escape in hollow forms.When you build hollow forms, you need a hole for steam to escape. Otherwise a hollow piece without a hole can become a grenade in the kiln. While the clay is still leather hard, use a needle tool to make a small inconspicuous hole somewhere on the piece. If you forget and the piece is already bone-dry, just use a drill bit. Make sure the hole is large enough, so that when the clay naturally shrinks from moisture loss, the hole still remains big enough for steam to escape.
3. Don't build thicker than 1 inch. Alright, I know this rule is breakable. It's possible to fire a whole 25 pound bag of clay without explosions. But it takes some patience and a very long kiln firing time. But for most projects, less than 1 inch of clay thickness is a good rule of thumb. It lowers the risk of having pockets of air and moisture deep within the piece. Your pieces will dry faster and be less heavy after firing.
4. Fire using a long preheat. If you have a programmable electric kiln, use your preheat function. Most electric kilns can hold temperature at 180°-200°F for a programmable amount of time to allow moisture to evaporate from the greenware before the kiln heats up past 212°F. Consult your kiln's manual for more details on how to program the pre-heat.
5. Fire slow. This works for both older cone firing kilns and newer programmable electronic kilns. When in doubt about the dryness of the piece, fire slow. On newer electronic kilns – consult your manual for the slowest programmable speed. For example, on a SKUTT kiln, this would be the "slow" button when using cone fire mode. On older kilns that use a cone to fire and a switch to control time, start with the kiln on low for 4 hours, medium for 3 and then switch to high until the cone melts.
An exploded piece is a frustrating thing. But with a combination of these tips, you can reduce your chances of it happening.
So my fellow clay geeks, do you have any extra tips and tricks for drying pieces? Or what's the worst blow up you've had in your kiln?  Let us know in the comments field below.